Tuesday, November 30, 2004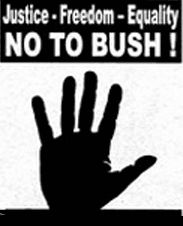 Canada prepares for Bush's visit today in Ottawa and in Halifax tomorrow. But Canada hasn't completely refused Bush with regards to the US/Iraq war. I
read
that Canadian government sources say Ottawa will eventually commit military instructors to help train Iraqi army officers, provided it's done in neighbouring Jordan.
"Hey, Canada, if you just help us train Iraqi soldiers in Jordan, it's not like you're
really
helping us with the Iraq war effort."
Although Bush has Canada's blouse off and is rounding third base heading for the big score, Canada won't give up the big prize. (of sending troops to Iraq) They have a
"No To Bush!"
Committtee ready to greet him today to show him just how the majority of Canada stands.
(Here's the "Bush Arrested" Indymedia parody
link »
. Another comprehensive protest site contains a
live cam
. More goodies
link »
)