Friday, November 30, 2007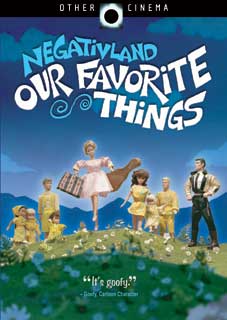 "Our Favorite Things"
is a new DVD/CD by the notorious experimental music and sound group
Negativland
, co-released by
Seeland MediaMedia
and Craig Baldwin's
Other Cinema Digital
. The launch event takes place at 8:30pm this Saturday, December 1st at
Other Cinema
in San Francisco.
Or you can buy it
online
.
To understand the DVD compilation Our Favorite Things, one has to comprehend the basic tenets of Negativland's philosophy. Thematically, the band appears to follow the William Burroughs' method of cut and paste creativity. The notorious beat author, responsible for the incomprehensibly brilliant Naked Lunch, used to write long passages, tear out the typed page, cut the sentences into soundbite snippets, and reconfigure the prose into new, unexpected phraseology. Much of the music Negativland makes is standard rock and electronica stomps. There's even a peppering of pop and pleasant valley sundriness to it. But the lyrics, when there are any, follow a more free flowing, stream of subconsciousness pattern.
read more
link
|
via-1
,
via-2
,
via-3